Valley High School, West Des Moines, Iowa
Class of '69 Photos.
Email your photos of high school days or previous reunions to committee chairperson, Jeanne Wood Wolf at jeannewolf328@yahoo.com and we will get them posted.
Confirmation Class at St Mark Lutheran Church, April 1965
1st row-Connie Page, Terry Michael, Steve Faulkner, Susan Esbensen, Helena Kessler, Marilyn Messerschmidt, Claudia Jacobson. 2nd row-Gerold Hansen, Brian Cage, Kris Nelson, Margie Jordan, Linda Novotny Vujnovich, Marsha Millen, Cindy Shearon, Candy Evans. 3rd row-Bill Stifel, Mary Kennedy, Jeanne Wood, Jerry Stock, Pastor Meine, Ted Graff, Linda Lundin, Doug Anhorn, Mike Stifel. (Photo provided by Jeanne Wood Wolf.)
Clegg Park 6th Grade Mrs. Grimes class 1962-1963
Front Row: Doug Squires, George Barnard, Gary Welbourn, Jim McGill, Jim Button, Jim Giles, Skip Drake, Paul Lewis, Doug Anhorn. Second row: Jim Alt, Patty Evans, Candy Evans, Don Weintz (I think), Kate Boyd, Jaretta Wester, Mary Lou Messerschmidt (Sp?), girl, girl. Third row: Sandy Wisty, Mrs. Grimes, unknown, Cheryl Vandenburg, unknown, Roger Deaton, Rick Pearson, Sharon Greenwood, Principal Mrs. Root. (Picture from Patty Evans. Naming assistance from Skip Drake.)
Wrestling Cheerleaders 1969
Jeannie Bray Cole, Sue Vandenburg, Marty Morgan, Pam LePera, Shelly Waldron and Patti Evans Hart.
The Girls from 20th Reunion- 1989
In front: Mary Ann Septer and Ann Schneider Garcia. In Back: Jeanne Wood Wolf and Kathleen Nesbit Hansen.
From 30th Reunion- 1999
Jerry Thompson, Shiela Fox, Kathleen Nesbit Hansen, Doug Fidler, Ed Greenman
West Des Moines Little League 1963
Clive Elementary Fifth Grade Mrs Emmert 1961
Top Row: Girl, Laurie Zimmerman, Girl, Bryn Ohme, Jim Osborn, David Paul, Bruce Newell, JIm Lundberg,Girl. 2nd Row: Kathie Nesbit,. Betty Strock, Carol Coppola, Mike Waters, Randy Worth, Glenn Briskin, Greg Artis, Kurt Korte, Debbie McClatchley. 3rd Row: Nancy King, Sally Somebody, Bindy Teater, JoEllen Cannon, Billie Somebody, Ron Skeie, Nancy Goehring, Girl. Bottom Row: Mrs. Emmert, Tom Stevenson, Aaron Rosenfeld, Scott Holmes, Girl, Mr. Hyke, principal. (Photo provided by Kathie Nesbit.)
1966 West Des Moines Senior League National Finalists- The following are memorabilia from that season.
Clegg Park Elementary- Mrs. Root 1960
Football Program- West Des Moines Valley vs. Des Moines Tech 1968
WDM Valley Freshman Women's Basketball- 1966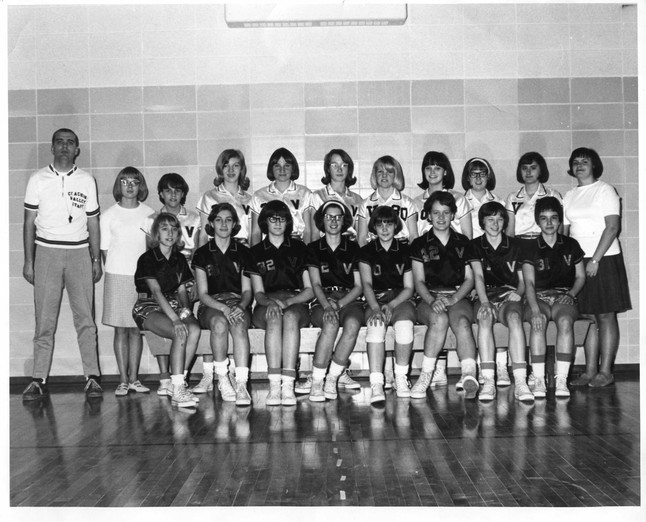 1st Row: Jan Hill, Kathy Flanagan, Rosemary Wiese, Mary Bridenstine, Sheila Townsend, Carol Huebnar, Carolyn Layden, Becky Allen 2nd Row: Mr. Wineingar, Elizabeth True (Manager), Claudia Jacobson, Sharon Litke, Jacque Collins, Cheryl Vandenburg, Sue Esbenson, Kris Nelson, Sue Richardson, Claudia Morford, Marcia Wickiser (Manager)